Looking for places to eat in Kauai? This post has a roundup of all the best restaurants that Kauai has to offer!
I've got the lowdown on all the best food in Kauai to inspire your next trip. And if you're already there, I'll help you pick where to go for dinner tonight!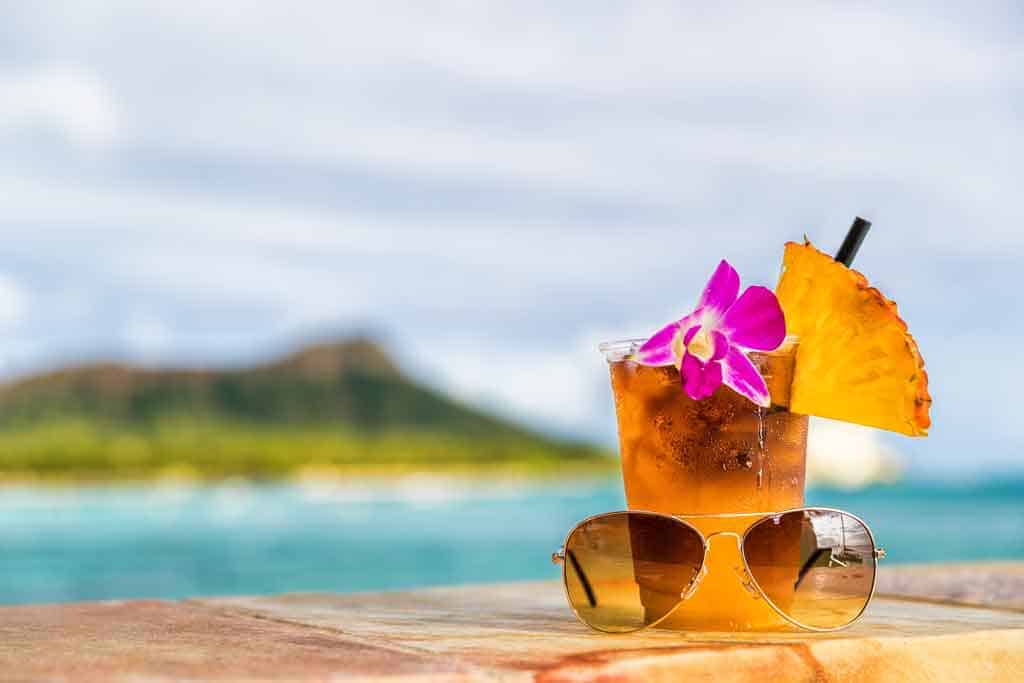 THE BEST PLACES TO EAT IN KAUAI
In addition to gorgeous beaches and waterfalls, there are also some amazing places to eat in Kauai. No matter where you go, you're in luck, because Kauai is one of the best places to visit in Hawaii.
BEST RESTAURANTS ON KAUAI'S SOUTH SHORE
Most of the best restaurants on Kauai's south shore are clustered in or near Poipu, the main beach and resort area of the southern part of the island. If you're staying on Kauai's south shore, chances are good that you're staying in Poipu.
Most of the Poipu restaurants that I've listed here are walking distance from the larger resorts, but you'll probably need to rent a car to get around the island anyways, so you may be better off with a short drive to dinner.
WHERE TO EAT IN KAUAI: THE BEST RESTAURANTS IN POIPU
There's so many places to eat in Poipu that choosing a restaurant can be a challenge, but here's my picks for the best restaurants in Poipu. You can't go wrong with any of these choices for an amazing meal to end an island-perfect day in paradise.
1. MERRIMAN'S RESTAURANT
If you're a seafood lover, you'll love Merriman's, which is one of my favorite places to eat in Kauai. The atmosphere is laid-back elegant, and the menu features local seafood specialties, prepared with creative twists.
Merriman's also has live music on Monday evenings which is a fun side dish to a delicious dinner. There are multiple locations of Merriman's throughout Hawaii, so if you're visiting more than one island during your time in paradise, you can hit up another location, too.
The Merriman's in Kauai is located in The Shops at Kukui'ula, home to tons of shopping and dining. Chances are good that you'll visit this center during one of your evenings in Poipu, and Merriman's is one of the best restaurants that the center offers. Even if you don't eat dinner there, it's a fun place to walk around in the evening, ideally with an ice cream cone in hand (see #4 below).
2. THE BEACH HOUSE
If you're looking for ambiance in a Poipu restaurant, The Beach House can't be beat. It's one of the few restaurants in Kauai that is completely beachfront, meaning that the views while you're dining are spectacular. Book a table for around 6pm, which will give you a perfect sunset dining experience.
A 6pm dinner reservation might sound a little early, but chances are good that you'll be up bright and early in Hawaii due to jet lag.
If your budget doesn't allow for a meal at The Beach House, I still recommend visiting the bar for a drink right around sunset. The location of the restaurant is just too pretty to miss. Having a mai tai or a glass of wine while you watch the surfers catch waves in front of the restaurant will make for a memorable evening.
As a plus, The Beach House hosts events and WEDDINGS!
3. RED SALT
Located in the Ko'a Kea Hotel, Red Salt is a hidden gem and my top pick for the best restaurant in Poipu. It's one of the best places to eat in Kauai because of the delicious food and the personalized service.
The menu at Red Salt features both seafood and non-seafood entrees, so it's a good choice if you're not in the mood for fish. On certain nights, the lounge at Red Salt is also home to a Sushi Bar, so check it out if your'e in the mood for a few rolls.
Dessert at Red Salt is also incredible. My favorite meal of all time!
4. LAPPERT'S ICE CREAM
Some of the best food in Kauai is dessert, and no trip to the island would be complete without a trip to Lappert's for ice cream. Located within The Shops at Kukui'ula, Lappert's is a must on any Hawaii food bucket list.
Take your pick from having a refreshing cone to cool off during the day, or stopping by for an after dinner treat. I prefer the latter, but I've been known to do both in a day.
They are also located in Princeville and Waimea.
WHERE TO EAT IN KAUAI: THE BEST RESTAURANTS NORTH SHORE KAUAI
Most of Kauai's North Shore restaurants are clustered in either Princeville or Hanalei, so I've broken my picks below into these two areas. If you're staying on Kauai's North Shore, you're most likely staying in Princeville, since that's where most of the resorts are located.
You'll need a car to drive in to Hanalei for the places to eat below, although it's a very short drive.
BEST RESTAURANTS IN PRINCEVILLE
Most of the restaurants in Princeville are located within the resorts that dominate this part of Kauai. I've included my pick below for the best restaurant in Princeville, but it's more of a special occasion spot. For something more mellow (but still with fabulous views), check out Happy Talk Lounge at the Hanalei Bay Resort.
5. KAUAI GRILL
Hands-down, the best restaurant in Princeville is the Kauai Grill at the Princeville Resort. If you're looking for special occasion dining, or you want to end your trip on a high culinary note, the Kauai Grill won't disappoint.
Book a table just before sunset to take advantage of the stunning views from the dining room during dinner. If time permits, having a pre-dinner drink in the hotel's lobby bar will allow you to soak in the views of Hanalei Bay for even longer.
THE BEST RESTAURANTS IN HANALEI
Although Hanalei is a bit sleepier than the resort magnets of Poipu and Princeville, it's packed with amazing restaurants. In fact, it's pretty tough for me to narrow down my picks for the best restaurants in Hanalei, but these are the ones I've enjoyed the most.
If you're headed to Hanalei and are looking for restaurant suggestions, here are my top picks for where to eat in Hanalei:
6. BAR ACUDA
Bar Acuda is my top pick for the best restaurant in Hanalei, and it's always the first reservation that I make when I am planning a trip to Kauai. The restaurant specializes in tapas-style food, so if you enjoy sampling lots of small dishes, you'll love Bar Acuda.
The restaurant is situated in a plantation-style cottage, with most of the seating outside on the patio. Book a table outside to enjoy the warm tropical nights in an enchanting setting as you sample some of Kauai's best cuisine.
7. TAHITI NUI
For a casual dinner in Hanalei, look no further than Tahiti Nui, a Kauai institution and one of the best places to eat in Hanalei. I love Tahiti Nui's pizzas because the crust is coated in a special garlic sauce – YUM. And of course, I'd never turn down a Tahiti Nui Mai Tai. It's very casual and also family-friendly.
Every Wednesday, the restaurants hosts a Family Luau which is a ton of fun – you can buy your tickets online ahead of time. Alternatively, visit Tahiti Nui on one of the nights when the restaurant hosts live music – which I think might be every other night.
8. POSTCARDS
Adorable doesn't even begin to describe the setting at Postcards. Located in a plantation-style cottage that's packed with charm, Postcards specializes in creative seafood and vegetarian dishes unlike anything else you'll find in Kauai's restaurants.
The service is understated elegance and you can't go wrong with one of the daily specials. If it's a warm night, ask for a table on the outdoor patio – there's no better place to eat in Kauai and enjoy the island breeze.